Computing the one-hop transmission delay
Consider the figure below, in which a single router is transmitting packets, each of length L bits, over a single link with transmission rate R Mbps to another router at the other end of the link.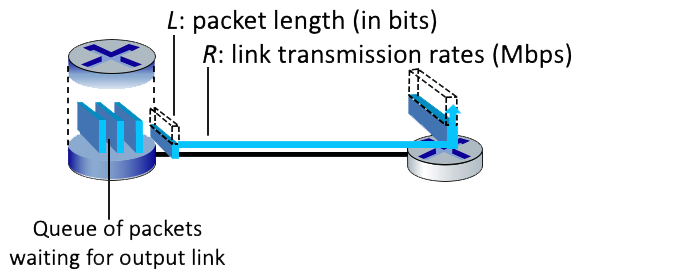 Suppose that the packet length is
L
= 4000 bits, and that the link transmission rate along the link to router on the right is
R
= 1 Mbps.
Round your answer to two decimals after leading zeros
---
Question List
1. What is the transmission delay?

2. What is the maximum number of packets per second that can be transmitted by this link?

---
Solution
The transmission delay = L/R = 4000 bits / 1000000 bps = 0.004 seconds

The number of packets that can be transmitted in a second into the link = R / L = 1000000 bps / 4000 bits = 250 packets

---
That's incorrect
That's correct
The answer was: 0.004
The answer was: 250
Try Another Problem